Son of a Computer Repair Genius
It isn't often that computer technicians near me write about their personal life. Even the best computer repairs technicians tend to write "how to" computer articles and "do it yourself" blogs. From time-to-time clients ask me how I got into computer repair businesses and why I work at DML. I did not magically become one of the best computer repairs techs overnight, I had help. For those who know me it's not surprising that my mom, the computer repair genius, is my inspiration.
The Beginning
I suppose my story begins before I was born, with my mom. She had a very rough childhood, frequently moving through the foster care system and always fending for herself. All things considered, she worked her way through college and eventually opened DML Computer Repair. What most people don't know is that my mom is entirely self-taught in pc repairs. I can't remember a time when she ever stepped foot in any of the local computer repair businesses. For years she tinkered with computers, "breaking more than she fixed" as she always said. By the time I was a toddler, I remember sitting at the kitchen table, as she researched computer and laptop repairs.
My mom, computer repair genius
First thing to remember about my mom is that she talked to herself as she typed, which is probably common for a computer repair genius. Moreover, it felt like she was talking to me, which is why I answered and posed further questions. At length we discussed pc repairs, potential solutions and often deviating from the original problem. Once in a while, my mom would let me help with computers and I felt fantastic! I suppose it was no surprise when at age 6, I took her tools and disassembled our PlayStation. Even though my mom was probably furious, she looked at me and said, "please research and put it back together". I learned 2 things that day. First, my mom was awesome and despite her lack of social skills, she understood my thirst for knowledge. Second, one day I wanted to work in a shop that performed the best computer repairs in Colorado Springs.
I love the technology, but mom, I love you more.
Over the years, I had many computers, all of which were built by my mom. Unlike my friends, my mom would give me computers and then we would admire them together. Moreover, we would have deep conversations about the performance and hardware specifications. As an adult, I now understand that the computers weren't the gift, but the hours we spent bonding over them. Although my mom had a difficult life and lacked social skills, she spoke to me through the language of technology. I honor my mom and her genius by further developing my skills to perform computer and laptop repairs in Colorado Springs. I perform computer and laptop repairs because it's more than just hardware, it's the language that taught me love.
Come visit me at DML Computer Repair, we don't just perform the best computer repairs in Colorado Springs, we love what we do. I'll introduce you to my mom, the computer repair genius.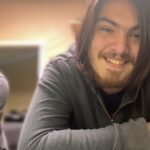 Dom Garza
Junior Technician | PC Builder Trainee | Gaming Tester | DML Blogger
Author Quote:  "Resident Evil is my all-time favorite game".  ~Dom